[Part 1] All About Love: What It's Like to Find Your Passion and Purpose in Life
"True love exists."
And if Shelby Ring's thoughts on what true love means in this day and age is anything to go by, her opinion actually holds a lot of merit.
"I'm all about love. It's beautiful when it's quiet and subtle; I adore it when it's loud, cheesy, and romantic. I especially love love when it's about yourself--what you do, what you're passionate about, and everything else in between that inspires you."
Because for Shelby, falling in love was when she first held an underwater camera in her hands. It was love at first sight when she plunged into the water, fins first, to film the underwater world she'd grown so accustomed to while working as a chef on a term charter sailing catamarans in the BVIs. "I'll never forget that moment when it hit me; 'I might not do this forever; this is a really unique moment in my life story -- I want to remember this!'"
Shelby stayed up all night as her charter guests slept, fumbling through iMovie on the ancient Mac on board, editing seascapes, fan coral and schools of baitfish from Monkey Point on Guana Island, set to her favorite song at the time.
"To this day that video is still one of my favorite videos I've ever created. Not because it's perfectly filmed or edited by any means, but because of the value it preserves for me. The moment that establishing shot and bass line starts, and I can tell you who was on the boat, my outlook on life, what I was living for, what I was about in that moment -- all of it. It's a snapshot of the geographical and inward landscape of my life- forever on ice, available for me to connect and be inspired by anytime."
Being in love meant having the opportunity to capture honest moments on film, tellING THAT STORY, and knowing that what she does everyday makes people happy. In short, finding her true passion in life--being behind the camera, being creative, and working with people--paved the path to true love.
She's not the only one.
"When I started my business as Nest Productions, I met a lot of people within the wedding industry and outside of it that showed me what hard work and love for what you do can achieve. Their stories inspired me to evolve my work and expand it. Today, as Ruby Riot Creatives, I feel lucky that I wake up every day knowing I have a job that allows me to do everything I am passionate about."
Like Shelby, these people demonstrate the almost incalculable value behind building and having a career that you actually love. To get a glimpse of what that's like, here are some of Charleston and the South's rising stars and vanguards from industries ranging from weddings, to music, to health, to fashion, so they can talk about what they love most about their jobs. Check it out below, and be sure to catch their advice on how you can discover the same passion for your own work--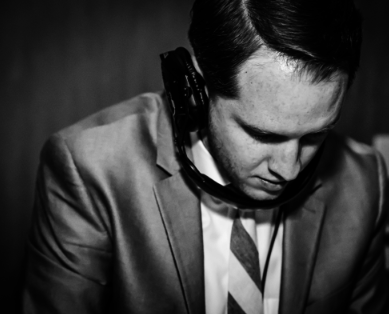 Professional DJ and owner/manager of Bunn DJ Company, a multi-op DJ agency representing 10 DJs in Charleston.
I have been DJing since 2003 when I was in college and have always had a love and passion for it. I never thought of it as a career choice, it was something I enjoyed and could make extra money while having fun. It wasn't until I joined Bunn DJ Company in 2010 when I began to see what a career as a DJ and owning a DJ business could be. I was a project manager and an attorney for an environmental organization for 4 years before realizing that the corporate world was not a good fit for me long term and climbing the corporate ladder was not a personal motivation. During the last year of that job, I pondered and researched and explored other jobs and careers, some in the same field, some in couple different industries.
Working for myself has been, and continues to be, the most difficult and rewarding experience of my life…next to marriage of course. In many ways working for yourself is just like a marriage - full of compromise, constant self-reflection, dedication, and prioritization, and just like any relationship, you get out what you put in. There are not a lot of professions where you are able to be a part of something that will stick with a person for their entire lifetime. I think being able to be part of that and help create that memory and make it everything it can and should be is the most rewarding part about what we do.
What makes me love being a DJ (mentioned above) is what keeps me passionate.
The passion is what keeps you striving to be sure you are providing the best possible experience for your clients, their families and closest friends is what keeps you at the top of your game.
The world is full of talented, smart people who lack persistence. If you want something go for it, but do your homework and develop a realistic plan with achievable milestones. What makes a DJ is the ability to connect with people, and connecting with people is what life is about.
I am a wedding and events planner and part of the larger event & design team of Tailor & Table. It is my job to help people create events that reflect what is in their hearts and heads; [I create] events that speak authentically to who they are as a couple or a company or an individual.
I think this career has always been in me and has slowly blossomed over the years as my life has permitted it to do so.
It wasn't until about 9 years ago that I allowed myself to be given the title 'event planner.' I felt as though I had to earn my stripes. There are many very talented people in this industry and I didn't want to just slap the title on a business card and assume that I deserved it.
[What do you love the most about your job?] The people. Without a doubt, the people. My partners, the vendors, clients, and their families. What a colorful story they have crafted over the years!
Every person has their own story to tell; whether it's why someone is passionate about their business or why two people fell in love. If you can get people to open their souls and share a little bit of their story with you, then you can stay passionate about this industry.
I remember 17 years ago while in college for another creative field and needing a part time job. I was lucky enough to secure a position at a fashion photography studio as their secretary.
I quickly fell in love with the lights and sounds of a film studio and changed my major.
This type of work didn't seem like work; more like art.
I never looked back!
After a few years there, I paid someone to follow them on a wedding day out of curiosity and once again my eyes were opened to a new, exciting field. I've been a wedding and event photographer ever since.
My favorite part of the job is being able to be the calm in the midst of an emotional whirlwind of a day.
So many details matter, but in the end two people are entering into a lifelong commitment in front of their friends and families, and that is such a beautiful, simple thing.
I realized that designing jewelry was my passion at the young age of 16. I love making women feel beautiful […] My customers feel confident and special when then wear my jewelry.
I think doing something that I love everyday keeps me passionate.
I am never counting the hours that I work because I love my job. I feel so blessed to walk into my shop each and every day. Every day is fun and different so it never feels monotonous.
[Best advice for people who want to go into this?] Make sure that you are comfortable with not having a steady income or benefits. Also, be aware that you will have to work nights, weekends, holidays, etc because when you own your own business, you can't turn it off or step away. I would also say to make sure that you have your own signature style and not just replicating what others are doing.
I am a private practice Registered Dietitian and I help busy people meal plan to meet their goals. I take a non-diet approach and believe all foods can fit in a healthy lifestyle!
I always knew I wanted to work in health and wellness, with a focus on disease prevention. When I was younger, I had next to no cooking experience, and it wasn't until I was able to take electives my senior year of high school that I took my first cooking class. Before I knew it, I was leaving my calculus class early to go proof my bread in the oven!
[What do you love the most about your job?] Changing lives! I believe in what I practice - I started out my career in nutrition counseling for heart disease and diabetes and people used to say to me "I wish I knew all of this when I was your age." I know that teaching my clients evidence-based nutrition now is going to prevent them from saying this.
Don't be afraid to change your major and follow your dreams!

NOTE: We're so grateful and overwhelmed by the number of replies that we received when we began writing this article. There are more inspiring stories to come—be sure to watch out for Part 2 of this series!